While the new World Cup season looks special because of the coronavirus crisis, it will be even more so for Marusa Ferk. Without any support from her national federation, the Slovenian skier has just joined an international organization to race this new season independently. She has also just launched MakeaChamp.com a crowfunding platform to finance its ski racer activity.
Interview with a talented skier who dreams of qualifying for the next Ski World Championships in Cortina d'Ampezzo in February 2021.
Copyright images Marusa ferk
Hello Marusa. During this new World Cup season, you will race independently without the support of your national federation. Why ?
I met the criteria for the World Cup national team, but they (Slovenian federation) decided to not put me in.
Did you meet all the criteria? What have been your best performances in the past?
I did a criteria for the Slovenia world cup national team (to be TOP 15 in Alpine Combine) which are published publicly on a website every year at the beginning of the season.
My best season result was 6th place in Alpine Combine and overall 12th on Alpine Combine standings.
My biggest achievements currently are:
– European Cup: overall 2nd, overall in Alpine Combine 1st and 3rd, overall in Slalom 3rd; I have 10 podiums and 4 wins
– Word Cup: 3rd place in Slalom, 8x TOP 10, points in all 6 disciplines, TOP 15 results in all 6 disciplines, 18th place on my first Word Cup race
– World Ski Championships: best 8th place
– Olympic Winter Games: best 10th place
Will you depend on an organization for this new ski season?
I will not get any financial, coaching or organization help from my federation. So I connected with an international team-ISRA (www.israskiracing.com). Coaching by Chris Knight and Jeff Fergus + Johanna Tikkanen (ex-coaches from Mancuso and Vonn, and currently from Alice Robinson).
In which disciplines of alpine skiing will you be racing in the World Cup? Will you take part in the world championships in Cortina in February 2021?
With Slovenian federation we made an agreement that I have World Cup spots in Alpine Combine, Parralel, Super-G, Downhill. For Slalom and Giant Slalom, I need to qualify through European cup.
I hope I will be competing in world championships in Cortina in AC and SG. This is my goal.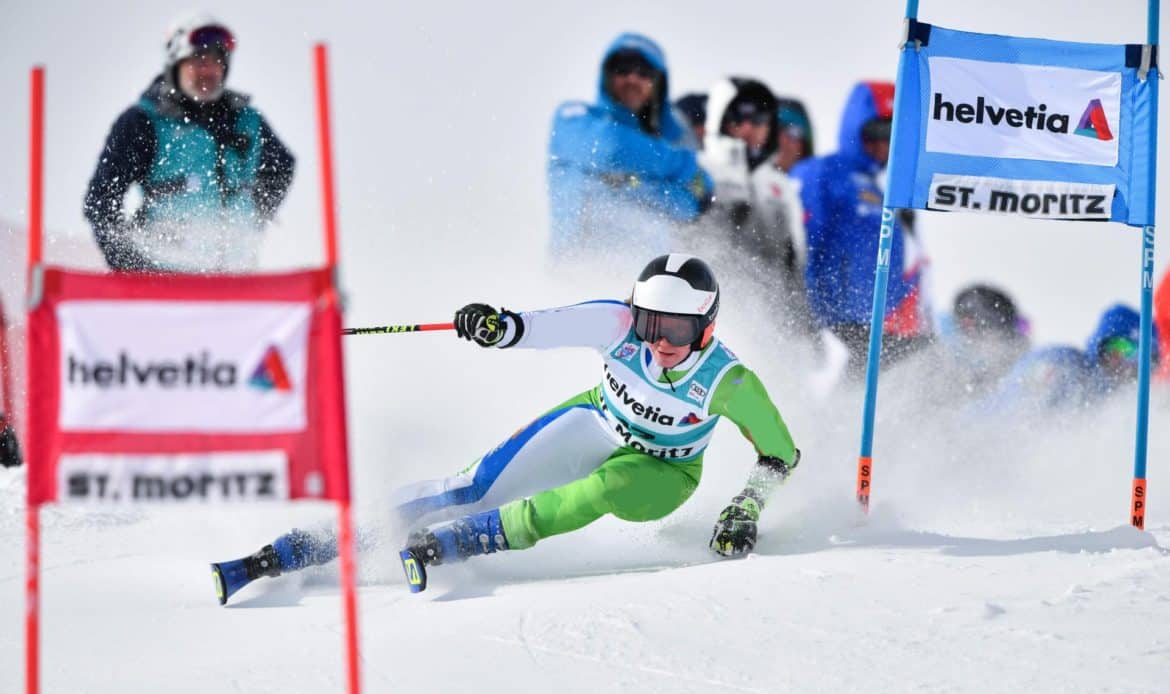 You are looking for funding for the coming season. How much and to finance what types of expenses?
This season is all on me. I need to finance everything. And this also includes a serviceman – all his expenses, material, van, accomodation,…
Currently my FIX expenses are calculated to be around 55 000€. This includes my team fee, preparation period, serviceman (his payment, material, rent a van, accomodation), plane tickets and overweight for China World Cup races + all coronavirus tests that we need to do prior to every WC race I also need to pay by myself.
You just launched MakeaChamp.com What is it?
Make a champ is a crowdfunding platform for sports (team or individual sports).
I launched a campaign which I hope will help me to raise some money to lower my expenses in this season. I'm offering some rewards in return for a contribution. You can also contribute any sum without a reward and I'm also offering a partnership deal – I'm offering a place on my helmet or on my clothes for advertising.
I am open for any other suggestions for individuals or companies.
I set the campaign to raise 15 000€ which is around 1/4 of my total expenses in this season and I will really appreciate it if I will be able to raise around that kind of amount.
With this amount I will/I could cover my serviceman and a few coronavirus tests that we need to do before every race.
https://makeachamp.com/marusaferk2020
What is your dream for this season?
My goal is to qualify for World Ski Championship in Cortina and compete in Alpine Combine and Super-G. I wanna be one of the best in speed again.